The Internet isn't just a luxury we can use to look up information. Today, the Internet is behind every new technology we use. Cloud architecture means that our software is hosted in remote data centers. Our cable packages have been replaced with streaming video services. Our entire social lives have been migrated to the web, requiring constant uptime and low latency.
As our Internet use has increased, so has our bandwidth. Cable Internet Service Providers (ISP's) are now offering plans with up to 250 Megabits of throughput, giving us access to large amounts of data at incredible speeds. Believe it or not, our bandwidth has already tripled over the last five years, and it shows no signs of stopping.
Unfortunately, our Internet isn't always as fast as we'd like it to be. Data has to travel through many hoops to get to your computer, and the slowest link in the chain determines that transfer speed. Most ISP's supply a low-quality modem, which often isn't capable of meeting modern demands. You might be paying for a service that you can't fully utilize. In fact, some companies charge up to $120 a year in rental fees for the very same piece of hardware that's slowing down your performance.
Your cable modem handles the connection from your ISP to your home, but your router distributes the connection to all of the devices in your household. Some routers simply can't keep up with our high bandwidth use, contributing to poor network performance.
For a onetime fee, you can purchase a cable modem/router combo that will let you tap into the full potential of your connection. There are plenty on the market, but we've dug up the three best ones that deliver the fastest, most reliable and consistent signal for all of your connected computers and devices. Let's take a look.
NETGEAR Nighthawk C7000
The C7000 is an attractive looking device that's a member of NETGEAR's Nighthawk product line, made for consumers who demand high speed connections without compromise. If it's anywhere as good as the standalone Nighthawk router, you're sure to be impressed with it.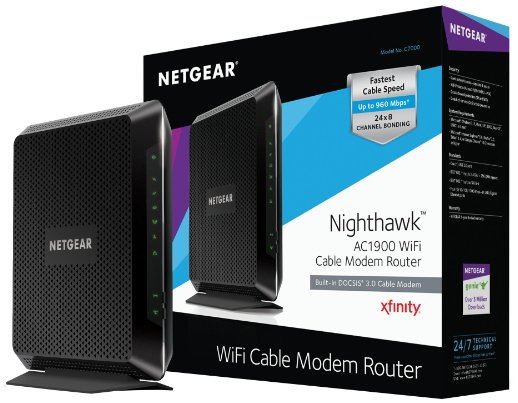 Modem
The NETGEAR Nighthawk C7000 has an integrated DOCSIS 3.0 modem that's compatible with all the latest standards. It provides users with 24 download channels at 8 upload channels, allowing for a downstream rate of up to 960 Mbps. Upstream bandwidth is currently limited to 32 Megabits, although both rates are much faster than anything currently available. It's very easy to set up, providing self-activation in some cases. If you're using Comcast XFINITY, all you have to do is plug it in and wait for a few minutes while it's automatically configured. Other providers will require a quick phone call, although more of them will be allowing self-activation in the future.
Router
Thanks to the Nighthawk technology, the Nighthawk C7000 happens to have one of the best routers on the market. It gives you 802.11ac connectivity, providing you with up to 1.9 Gbps of dual-band bandwidth. Not only does it have a much higher range than competing routers, but you also get pretty impressive bandwidth. Over the local network, you can expect network speeds between 616 Mbps (short range) and 273 Mbps (long range).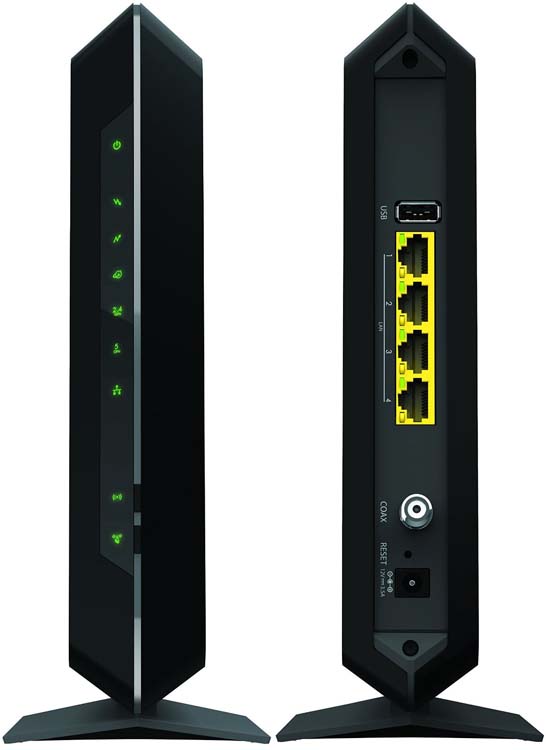 If you're the type that likes to tweak your network settings, you'll enjoy the NETGEAR genie web interface. You can set up basic features such as access control and WiFi security settings, but there are some other advanced features as well. In fact, you can plug in a USB storage device and use it as a NAS (network attached storage). Or, you can set up an open guest network that restricts bandwidth usage and blocks questionable websites. Parents will appreciate the parental controls, managing what kind of content your children have access to.
Additionally, it also has 5 Gigabit Ethernet ports in the back, allowing you to enjoy low latency connections for demanding applications. If you're going to be streaming media from a local server, you'll be very glad that these are available.
Compatibility
The NETGEAR Nighthawk C7000 is currently required for use with Comcast XFINITY, Time Warner MAXX, and Cox Premier & Ultimate packages. If you have one of those services and are using any other modem, then you're not getting the bandwidth you pay for.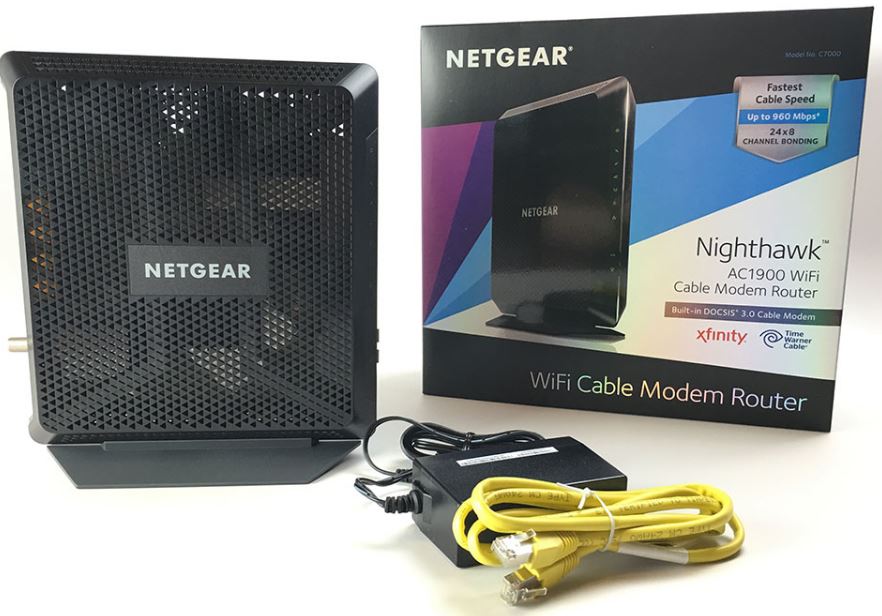 Regardless of which package you use, it's certified to be used on all of the above providers plus Cablevision and Bright House Media. Additionally, it adheres to all DOCSIS 3.0 standards, so if your provider isn't listed you can always call and double check. The only services that it will not work with are those that bundle cable internet and telephone service.
The C7000 uses all of the latest standards, so modern devices can take advantage of the high bandwidth. It's also backward compatible with all 802.11 standards, including B, G, and N.
ARRIS SURFboard SBG7580
ARRIS SURFboard modems are typically considered the fastest and most reliable on the market. If you're the type of person who likes to be on the cutting edge of technology, the SBG7580 will give you the edge you need.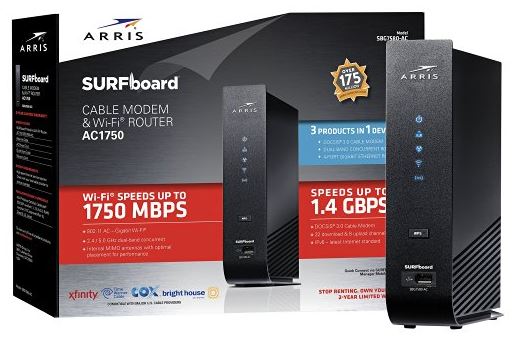 Modem
The ARRIS SURFboard SBG7580 gives you access to more bonded channels than anything on the market. With 32 bonded downstream channels, it's ready for connections rated at 1.7 Gbps. Upstream has the standard 8 channels, totaling 262 Megabits of potential bandwidth.
This significantly faster than any cable Internet service currently on the market, but there are two reasons why you might want to purchase such a fast model. The first reason is future-proofing. There are still people out there using DOCSIS 2.0 modems that came out 15 years ago. The cable Internet standard doesn't phase out these systems. With the huge bandwidth, this modem is capable of, you'll be making a purchase that can last you a decade.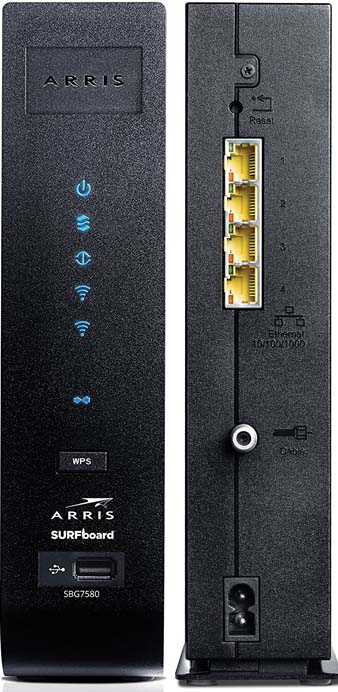 The second is stability. Depending on the distance between your modem and the cable company's distribution, your signal can get a little noisy while traveling through the lines. If you're running your modem at its highest possible speed, it won't have the ability to select a cleaner channel or attempt to filter the noise. With 32 bonded channels to choose from, it should easily perform well even if you have poor signal quality.
Compare to Similar Items
---
Router
If you're going to have the fastest modem on the market, you might as well have a router that can keep up. The dual-band 802.11ac network is capable of incredible throughput, reaching a peak of 1750 Mbps. Will you actually see this speed in the real world? In our tests, we were getting about 400 Mbps transfer speed from a locally shared file to our laptop on the other side of the house. At this point, there is likely going to be some bottle-necking from our hard drive. While the performance is very impressive, you're not going to be able to take full advantage of it for a few years.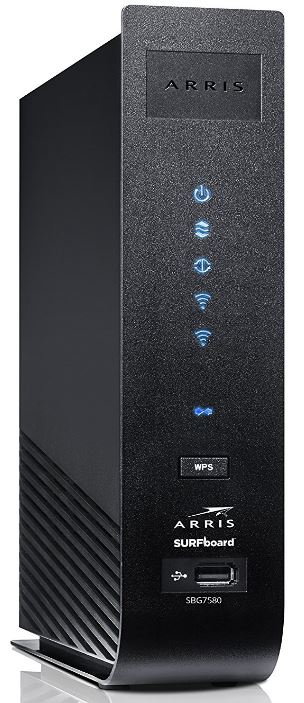 Compatibility
The ARRIS SURFboard SBG7580 is already approved for use with Comcast, Charter, Time Warner, and Brighthouse Networks. It's pending approval with Cox and a few other US cable providers, so you may want to call and confirm before you order.
The router, on the other hand, is fully compatible with virtually every WiFi networking card on the market. However, you'll need an 802.11ac adapter to take advantage of the high speed it offers. If you're purchasing for performance, make sure that your devices are up to the task.
Motorola MG7550 High-Speed Cable Gateway
Your cable modem will be used daily, hopefully lasting you many years. When it comes to such a long-term investment, it makes sense to purchase it from one of the most trusted and reliable brands in networking. Motorola played a significant role in developing the cable Internet standard, so you can be sure that their MG7550 modem/router combo will be a top performer.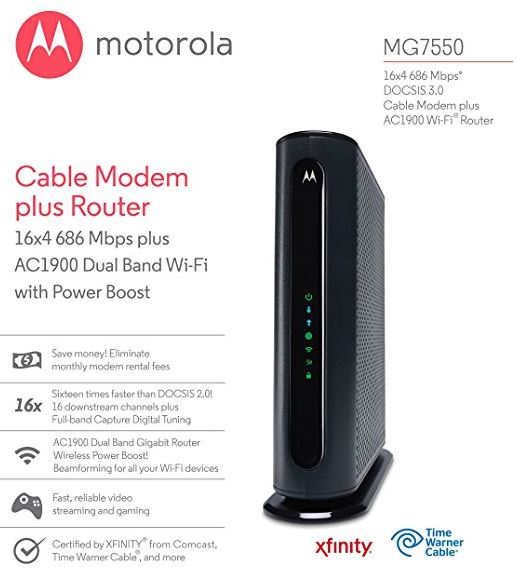 Modem
With the Motorola MG7550, they were a little more conservative with their design, including 16 downstream channels and 4 upstream channels. This gives you a maximum download bandwidth of 686 Mbps and upload of around 131 Mbps. On paper, it might not look like the fastest modem on the market. But in reality, it's just as capable of handling modern connection speeds as any other option.
Where Motorola exceeds is with full spectrum scanning. When most modems offer a certain number of channels, they mean specific channels in the spectrum. Each of these channels can have varying levels of noise, and some are more crowded than others. If you've had problems with your Internet randomly cutting out, this modem should likely improve your performance.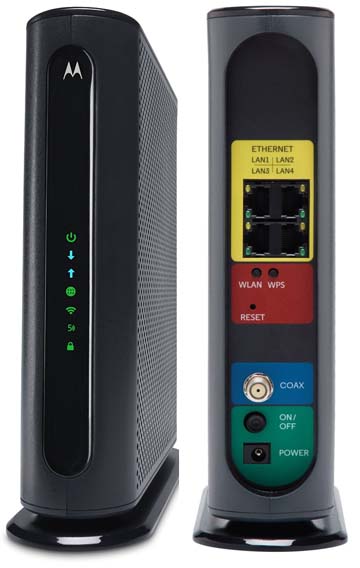 Router
Although it may look unassuming, there's a surprisingly powerful router inside this combo. It's got a theoretical maximum bandwidth of 1900 Mbps and is capable of broadcasting a 3×3 MIMO signal. What's MIMO? Motorola describes it as "beam shaping", but essentially you're creating separate WiFi networks for up to three different devices in your household. Sick of having your Internet slow down because your roommate is gaming out? Beam shaping will give you each your own connection, so you don't interfere with each other's performance.
It's also got a feature known as WiFi power boost. This increases the broadcast power to the maximum legal limit, giving you a longer range than any other router on this list. Overall, you get some pretty impressive performance.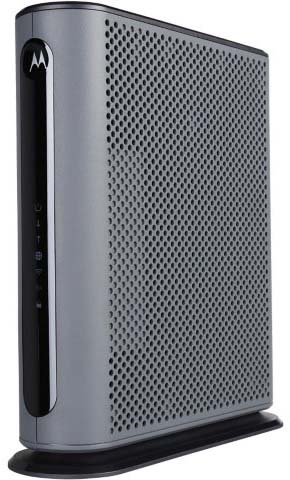 Compatibility
This modem/router combo is certified to work on almost every Internet provider in the market. They advertise Comcast XFINITY, CableLabs, and Time Warner Cable, but you can always call and double check.
WiFi is certified by the WiFi Alliance, indicating that it's compatible with every major wireless networking card on the market. This is one of the few modems that you really don't have to worry about, as you shouldn't expect any unpleasant surprises.
Which Cable Modem/Router Combo Should I Get?
All of these options would be a great choice for the average household, as they represent the best of the entire marketplace. Depending on your speed and bandwidth requirements, one may be better than the other.
The first thing you're going to want to do is to contact your Internet service provider. Confirm with them whether they accept 3rd party DOCSIS 3.0 cable modems, and list off the models we've reviewed here. At least one of these modems is guaranteed to work, although most major providers will accept all three. Once you know what your options are, you can choose from our recommendations below.
The ARRIS SURFboard SBG7580 is the fastest on the market. This is a purchase that can last you a decade, allowing you to upgrade to the highest tier package the minute it's available. It does cost a little more, but when you consider the monthly rental charges you'll be saving over this time you'll realize that it's a worthwhile investment.
The NETGEAR Nighthawk C7000 is the most configurable of the bunch. Just like their standalone routers, there are all kinds of settings and modifications that can be done from their easy to use web panel. You can configure access restrictions, content blocking, and even a handy guest network that keeps your communication secure.
The Motorola MG7550 is the best all-around option. It's not the absolute fastest on the list, but it's the most reliable. You'll still save yourself the monthly fees, and your home wireless network will be much more stable and consistent.
Have any questions or need some additional assistance? Feel free to leave us a comment below and we'll help you out! Enjoy your new cable modem/router combo and have a great time with the new network speeds you'll achieve.