Do you find yourself frustrated with your sluggish Internet connection? It often seems as if our internet is getting slower every year. In reality, the opposite is true. The Internet connections we use today are, statistically, three times faster than the ones we used in 2011.
Why would our bandwidth go up and performance goes down? It's all about usage. Families used to share a single desktop computer. Now, each of us owns both a laptop and a smartphone. Netflix started as a rental only business, but now it accounts for 37% of all internet traffic. We used to check our emails once a day, but our phones are now checking for updates in real time. Our Internet speed may have improved three-fold, but our use is climbing at a much faster rate.
Have you ever tested your internet speed online? It's frustrating to learn that our actual download speed is a fraction of the advertised speed. It's easy to blame the ISP for ripping us off, but the explanation may be much simpler. There are many components of your network, and the slowest one sets the pace. We're happy to purchase a high-performance router, but rarely do we think about our modems.
Our ISPs (Internet Service Providers) have improved our bandwidth, but the modems they supply us with haven't quite caught up. Despite their poor performance, many ISPs are even charging us a monthly rental fee. Here's a little secret: you don't have to use the crummy modem you've been supplied with.
There are plenty of inexpensive modems you can purchase yourself. You can expect a significant improvement in your connection speed, and you'll save yourself the monthly fee. When was the last time your purchase paid for itself? Let's take a look at the three best DOCSIS 3.0 cable modems you can buy today. Then, we'll help you find the one that's best for you.
ARRIS SURFboard SB6190 Cable Modem
Having designed networking hardware for many years, ARRIS is no stranger to the world of cable modems. Their focus is on performance, always trying to outdo the competition. If speed is your concern, you'll definitely want to take a look at this modem.
ARRIS SURFboard SB6190 DOCSIS 3.0 Cable Modem, Approved for Cox, Spectrum, Xfinity & others (White)
31 new from $49.50
42 used from $20.53

as of September 14, 2023 2:56 pm
Design
ARRIS went for a clean design with the SURFboard SB6190 Cable Modem, although there are a few tasteful updates. The recessed border around the face-plate is attractive but doesn't draw attention. The same was done for the cooling vents, making them look more like a visual effect than a functional choice. There are four bright LEDs on the face of the modem. They indicate power, network traffic, and Internet access.
It's pretty compact for such a high-performance product, so you shouldn't have any trouble tucking it away. If you do need to leave it out in the open, you certainly won't find it to be a nuisance.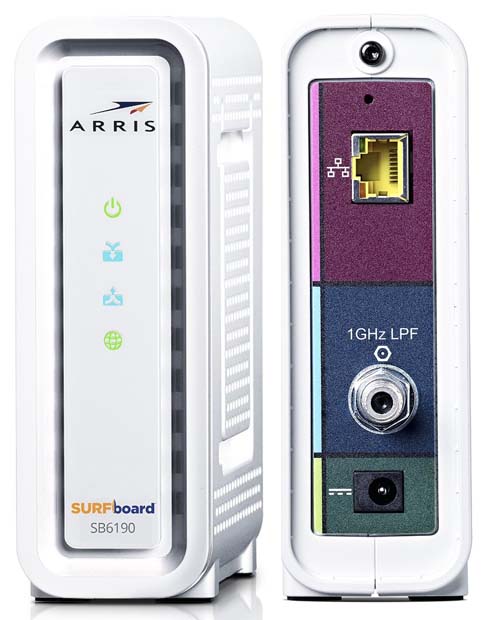 Bandwidth
The SB6190 is capable of handling 32 downloads and 8 upload channels, making this the fastest modem on the consumer market. Download speeds can reach a maximum of 1.4 Gbps, while upload is restricted to 262 Mbps.
There are a few reasons why you won't see those speeds in the real world. Internet providers simply aren't offering that much bandwidth right now. But when they do, you can bet there's going to be a scramble. While everyone else is trying to get a fast-enough modem, all you'll need to do is make a quick phone call.
Another issue with bandwidth is signal quality. Each channel is theoretically capable of 42Mbps, but if you're too far from the distribution station there may be noise on the channel. Some people might only get 30 Mbps per channel, while others may get 40 Mbps. The important thing is that the Arris Surfboard is better at handling noise than other modems. It's designed for high bandwidth, so the signal quality should be much higher.
Even if your internet connection is slow, you should still see an improvement with this modem.
Compatibility
ARRIS sticks to the DOCSIS 3.0 standard with no modifications. Technically, their modem is capable of working with any US carrier. It's guaranteed to work with Time Warner, Cox, Charter, and Brighthouse Networks. But not all carriers allow 3rd party modems on their service. Some individuals may want to contact their Internet service provider to make sure they'll activate this model. More than likely, it'll be supported.
The SB6190 is a modem that you can expect to last you many years. Not only is it fully compatible with every aspect of the DOCSIS 3.0 standard, but it's also compatible with IPv6. Once your ISP moves to the new standard, you won't need to change a thing.
Value
Although this is the most expensive modem on our list, it's also the fastest. If you're the type of person who wants to have the fastest possible internet connection available, slower modems might only last you a year or two. Since the SB6190 can handle so many channels, it'll be a very long time before it's outdated.
Motorola MB0 Cable Modem742
From the first mobile phone to the latest wireless networking technologies, Motorola is a pioneer of communication. Even if you don't own any Motorola branded products, we guarantee that one of their chips is floating around in at least one of your home devices. Motorola is known for their reliability, making this modem a safe choice.
MOTOROLA 16x4 Cable Modem, Model MB7420, 686 Mbps DOCSIS 3.0, Certified by Comcast XFINITY, Charter Spectrum, Time Warner Cable, Cox, BrightHouse, and More
out of stock
as of September 14, 2023 2:56 pm
Design
The Motorola MB7420 Cable Modem is utilitarian, simple, and unassuming. They've kept a similar design for years, making it easy to identify their modems. While the design may not be much of a looker, it's one of the most functional designs you can buy. The black face makes the multi-colored LEDs extremely easy to read, giving you at-a-glance information about your connection. You won't have to decipher any cryptic blinking lights if something goes wrong, as they're color coded.
At the top, you have the "online" light. It indicates a connection from your modem to your service provider. Green means you're online, orange means it's attempting to connect, red means the connection failed. Even without knowing the descriptions, you'd probably be able to guess what the problem is. You also have color-coded lights that indicate power, connection with your local network, sending data, and receiving data.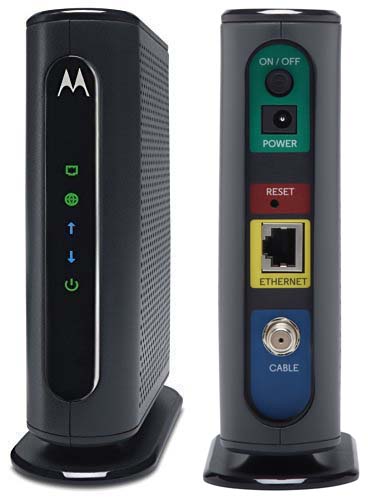 The back of the modem is color-coded and labeled so clearly that your grandmother could set this modem up. It might be obvious to some, but it's worth keeping in mind if you are purchasing on behalf of someone else.
Bandwidth
The MB7420 has 16 downstream channels and 4 upstream channels. This gives it a maximum download speed of 686 Mbps, and an upload speed of 143Mbps. By current standards, this is a lot of bandwidth. Even if your connection was 300 Mbps, you likely wouldn't see any benefit over increased bandwidth.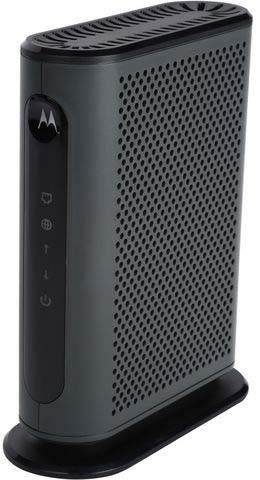 Where this modem excels is the quality of service. Even though it's only capable of managing 16 channels at a time, it's a full-band tuner. It's not tied to 16 specific channels; it can pick and choose the ones that have the lowest traffic. This is a fantastic feature to have if your household has a lot of open connections. When you've got too many people online at the same time, some modems will cut out. With the Motorola MB7420, you'll never have to worry about that again.
Compatibility
Motorola's MB7420 is certified for CableLabs, Comcast XFINITY, and Time Warner Cable. It may work with others, so it can't hurt to call and ask. The Full-Band tuner isn't compatible with every network, but it shouldn't be a problem on any regional ISPs.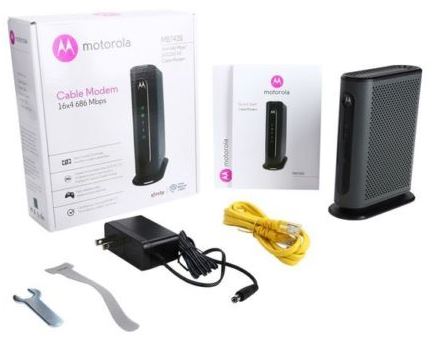 Value
This isn't the cheapest modem on the market, but it's only marginally more expensive than the competition. What does the extra ten bucks buy you? For starters, you've got lightning and power surge protection built in. This is pretty important for a modem, as cable lines can be struck by lightning just as often as power lines. You also get a two-year warranty and unlimited access to a North American call center for 24/7 tech support. For those perks, we'd say it's worth the money!
TP-Link TC-7620 Cable Modem
When it comes to affordable networking equipment, nobody does it better then TP-LINK. Every time one of the big brands announces an exciting new piece of hardware, TP-LINK is right behind them with a competitive model at a fraction of the cost. If you're looking for a good deal, you're in the right place.
TP-Link DOCSIS 3.0 (16x4) High Speed Cable Modem, Max Download Speeds of 686Mbps, Certified for Comcast XFINITY, Time Warner Cable, Cox Communications, Charter, Spectrum (TC-7620)
out of stock
as of September 14, 2023 2:56 pm
Design
If your modem is going to be visible, you'll appreciate the stylish design of the TP-Link TC-7620. Although it's quite reserved in appearance, there are subtle design cues that make it feel very high-end. The way light reflects off the rounded faceplate, the cooling holes slowly shrinking into nothing, and the gently rounded enclosure work together quite well. After the "in your face" design of their Talon AD7200 router, it's nice to see something a little quieter.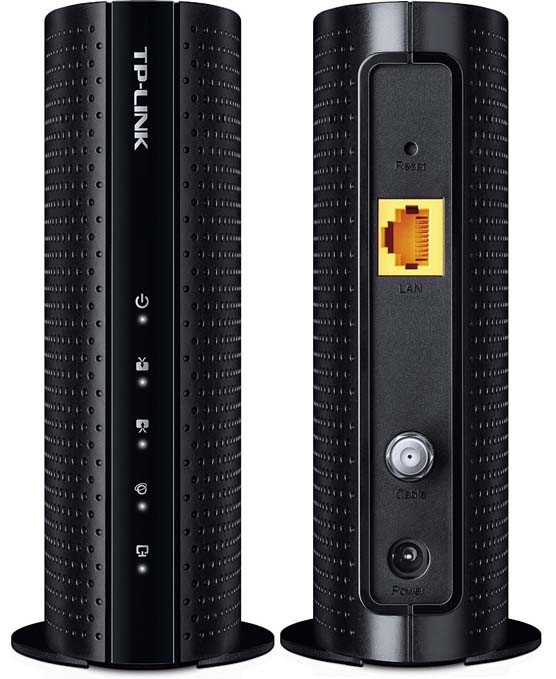 Beyond the appearance, the modem is pretty straightforward. You've got the standard indicator lights in the front, ports on the back, and a little stand that keeps it upright. There isn't much else you could ask for, really.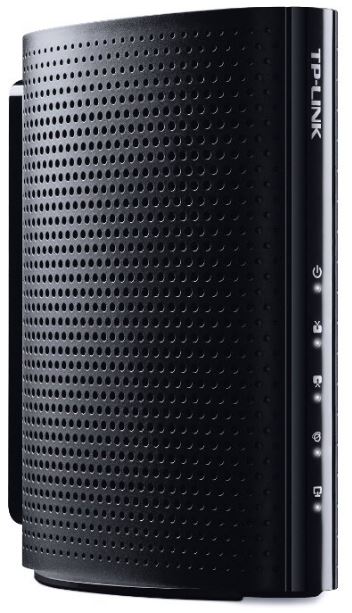 Bandwidth
With 16 downstream channels and 4 upstream channels, this modem is capable of 686 Mbps download and 143 Mbps upload. It may not be the absolute fastest on this list, but it's still one of the fastest on the market. You won't find any advanced signal filtering technology in here, but most consumers won't notice a difference.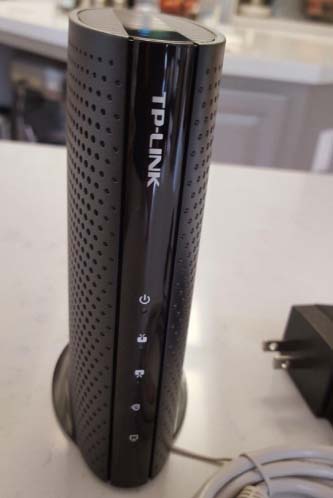 Compatibility
The TP-Link TC-7620 is currently certified for Comcast XFINITY, Time Warner, and Cablevision. At the time of writing, Cox and Charter are in progress. In theory, this modem should be compatible with every cable ISP in the states. If they don't accept this model, they probably won't accept any 3rd party modems.
Which DOCSIS 3.0 Cable Modem Should I Own?
If you're not a technical person, all of these specifications might seem confusing. You may have seen some negative reviews on Amazon left by people who purchased a modem, only to realize that it didn't work with their service. Fortunately, this situation is easy to avoid. If you can answer a few simple questions, we'll show you which modem is right for you.
Do You Have Cable Internet?
This will seem obvious to some, but it's actually a very common mistake. If you aren't sure, take a look at the back of your modem. You should have three cables attached: One for power, one for your router, and a third cable. If that third cable is a phone line, you don't have cable. But if it's a coaxial cable (round, screws on) then you're on the right page.
Are you paying rental fees for your current modem? Do you find that your internet is slower than the advertised rates? Does your internet stop work when a lot of people are online at the same time?
"I just don't want to pay a rental feed. I'm happy with my Internet speed."
We recommend the TP-Link TC-7620 Cable Modem. It's fast, reliable, and the cheapest of the bunch. Because it supports faster connections and IPv6, this is a modem that should last you many years. By the time it's outdated, it will likely have paid itself off many times over.
"My Internet becomes slow or unusable when too many of us are online."
We suggest purchasing the Motorola MB7420 Cable Modem. It's specifically designed to improve network stability. It will choose the best channels and can handle high usage without crashing. Plus, with a two-year warranty, this is a modem you can count on.
"I pay for a fast connection, but I don't get the advertised rates."
There is nothing faster than the ARRIS Surfboard SB6190. The SURFboard modems have been used for years, consistently outpacing the competition. With a maximum download speed of 1.4 Gbps, it'll be years before you're offered service that this modem can't handle.
Don't have a router? Unless you're using a very high-performance modem, you might be fine with a simple all-in-one unit. Check out our review of the Best Cable Modem/Router Combos and you can get everything you need in one compact package.