Best Baby Monitor
For new parents, finding the best baby monitor is a necessity. While it is wonderful having a baby, checking up on your baby from time to time is one of the toughest jobs new moms and dads have to go through. This can be tougher when your baby sleeps in another room different from yours.
This monitor delivered the most intuitive controls and strongest battery life, along with acceptable image quality, range, and value.
Baby monitors have been around for a while and they were designed as a way for parents to monitor their little ones via visuals and audio without having to step in the room. The technology for the most affordable baby monitor with intercom and the rest of the  digital baby monitors has improved with new features such as nightvision and sound activation among the most advanced. This monitor has two cameras.
There has also been integration with these monitors to our smartphones and tablets so parents can continue to monitor their infant even when they leave the house for the supermarket or go outt for an evening dinner.
This guide will direct you to the best baby monitors on the market today. The baby monitors on this list are for different price range with different capabilities that will simply blow your mind away.
1. Infant Optics DXR-8 Video Baby Monitor – Best Seller for Baby Monitors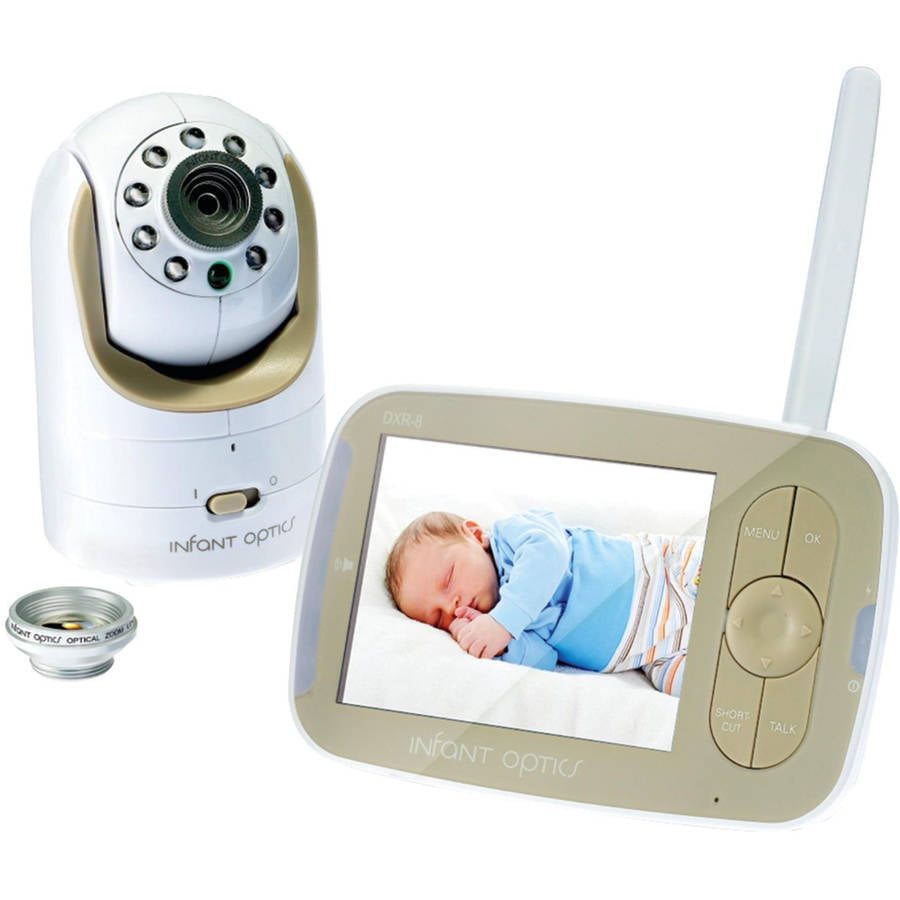 The Infant Optics DXR-8 Video Baby Monitor is the most purchased and the most reviewed baby monitor on Amazon.
It features on our list of the best baby monitors for its large display screen, stealth notification features and the interchangeable lenses on the camera.
It comes with incredible features that will give you peace of mind every time you step away from the crib to get an item either in the kitchen or the living room.
Infant Optics DXR-8 features night vision that shows your child to you clearly even at night, wireless portability, remote pan, tilt control for viewing the baby's entire room, six to ten hours battery life.
It also has sound activated LED that will alert you when your baby cries.
The camera for the Infant Optics DXR baby monitor has three interchangeable lenses (Normal, Zoom or Wide Angle) that you can switch between at your convenience.
The hand-held screen is 3.5 inches and it has a two-way talk functionality for communicating with your infant through the screen. The Infant Optics also monitors the temperature of the room
Why moms love it
LCD screen is quite big at 3.5 inches

The baby monitor comes with three interchangeable lenses

This unit doesn't have any beeping alert that can wake your baby up from his sleep.
Why moms hate it
You can purchase extra cameras for a total view of the nursery but it can be expensive

The signals could be interrupted by walls and televisions depending on how your home is structured.
56,639 total views, 2 views today